Hubli airport is third busiest airport in Karnataka, India and it serves twin cities Hubli-Dhrwad. It is located in Gokul road which is 6 kilometer away from the hubballi city old bus stand and 20 km away from Dharwad.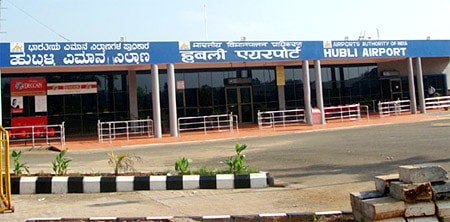 International Air Transport Association (IATA) : HBX and International Civil Aviation Organization (ICAO): VOHB
The airport is spread over 615 acres with a runway of 8,500 feet, the terminal building is 368 square feet and during paek hours it can manage 300 passengers that is 150 arrivals and 150 departures.
Airport is well equipped with necessary infrastructure such as CCTV, fire alarm, public address system, firefighting, car parking, HVAC (Heating Ventilation and Air Conditioning), check-in counters, elevator and baggage scanners are making it easy and comfortable for passengers.
There is huge parking spot for the people to conveniently park their cars and happily be with their loved ones till they board the flight.
It also includes and taxiway, better and bigger terminal and arrange more flights with larger aircraft like Airbus 320, Boeing 737 as per government project of extension.
People from different cities for business or profession, find it easy to travel in short time period and reach their desired destination.
Hubli Airport Contact Number and other Details:
Telephone: 91-836-223 7921, 09449827652 (M), 91-836-223 7922 (R)
Fax: 91-836-223 7920
E-Mail: apc_hubli@aai.aero
Timezone: GMT +05.30 hours
Flight Booking Resources,
Makemytrip