A new Hyundai Santro 2018 has been one of the biggest and successful products of the Hyundai; this is the first car which is specially made for Indian customers. Santro's first generation is really set the path for the Korean carmaker in India, which is now one of its biggest markets. Now Hyundai Started its onslaught on bigger car segments, it lost its momentum a bit in the budget segment.
Compare to the other older generation, the car packs in a whole array of changes an upgrades iteration of this compact hatchback. Now, the Santro comes with an all-new interior, better features, new persona, and improved driving dynamics.
The Hyundai Santro is now available at a starting price of INR 3.89 lakh and a top-end variant of this compact hatchback is going up to at INR 5.45 lakh.
Interior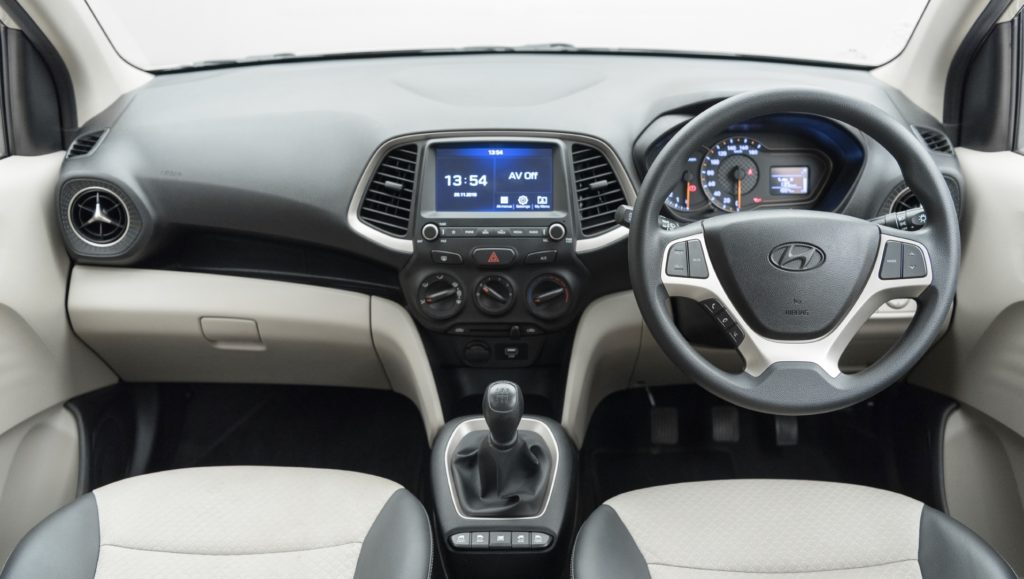 The new Santro 2018 now comes with stylish interiors, there is also option of the green interior, which turn from black and being to all green. Car's steering wheel comes with three-spoke that is good enough in size and perfect to hold and grip while driving. The plastic is used in car is hard one, fir and finish is top notch. The dashboard of the car is very impressive with the high-res seven-inch touch screen infotainment system. It comes with Android Auto, Apple CarPlay and reverse parking sensors camera. There is single driver airbag and ABS + EBD is standard on all models. Santro's front seats offer good support and are comfortable for long trip for driver and front seat passenger. The rear seats of the car offer decent support, but the cushioning might have been more.
Exterior
At the outside, there is large front grille with uniquely-placed fog lamps, which give the car a wide smile. Headlamp of the car is big swept-back that brings some semblance to the quirky face. The profile of the new Hyundai Santro looks a very attractive, the wheel-arches and design kinks which look a bit too much. The car designed at Namyang, it is based on a new K1 platform and its headquarters with inputs from its technical centers in Hyderabad and Chennai.  The car is available in 7 different colors- Star Dust, Fiery Red, Diana Green, Typhoon Silver, Polar white, Mariana Blue, and Imperial Beige.
Engine
The engine has been tuned for efficiency given the nature of the target audience. Santro's new engine manages a modest 68bhp of highest power and 99Nm of torque. The car not very heavy but initial acceleration is muted. Santro also offers segment features around 20 years back. It is still offering segment first features and it is a benchmark for Entry level Segment for buyers by hitting in Aspiration factor. Santro offers segment first 4-cylinder Engine. Its designed car for buyers who consider a car for city usage as the pickup seems liner, soft suspension. The charm of all new Santro is AMT Automatic, this is best gearbox we found in the segment competing against Tata Tiago, Celerio, just correct gear shift range and the car is a breeze for drive in city conditions.
Pros & Cons
The quality of Hyundai Santro sets a new benchmark, the quality of material which is used inside the cabin is best. When it comes to ride and handling, car comes across as a very mature package. At high speeds, it feels planted, where the steering also weighs up to make you feel confident. At city speed and parking, the steering of the car is light and the ride is comfortable.
And one of the big disappointments of the Hyundai Santro is taillight, it could have been so much nicer. It is just too simple and while well executed, but it is just very old-style model, it doesn't work for some users. The rear bumper of the car with its two-tone and even the way the tailgate has been done-both are distinct and nice.